The Presidential Election of 2024 was the 60th United States election. 
Nominations
Republican Party ticket, 2024
Mike Pence
Paul Ryan
for President
for Vice President

48th Vice President of the United States

(2017-2024)
54th Speaker of the United States House of Representatives

(2015–2019)
General Election
Results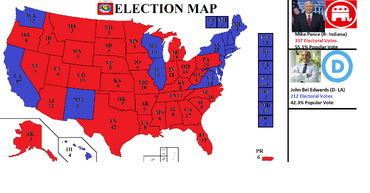 Ad blocker interference detected!
Wikia is a free-to-use site that makes money from advertising. We have a modified experience for viewers using ad blockers

Wikia is not accessible if you've made further modifications. Remove the custom ad blocker rule(s) and the page will load as expected.